Thank you for joining the conference!
MagnEFi is an Innovative Training Network funded by the Marie Skłodowska-Curie Actions programme of the European Commission where early stage researchers (ESRs) work on the topic of electric field effects on nanoscale magnetic structures. This consortium has decided to organize a scientific conference in order to provide connections between young researchers and scientists in the field of spintronics.
MagnEFi2022 conference covers a wide range of cutting-edge topics in magnetism and magnetic materials research, ranging from the fundamental to the applied. The topics cut across the entire field of magnetism, such as spintronic phenomena, electric field control of magnetism, nonlinear effects and spintronic devices. The variety of the content is enriched by the presence of career oriented workshops.
The conference is free of charges. Participants will not be asked for attendance fees. However, travel, meals and accomodation costs are not covered.
The ESRs of the MagnEFi network, organizers of the MAGNEFI2022 conference are looking forward to welcoming you to Crete!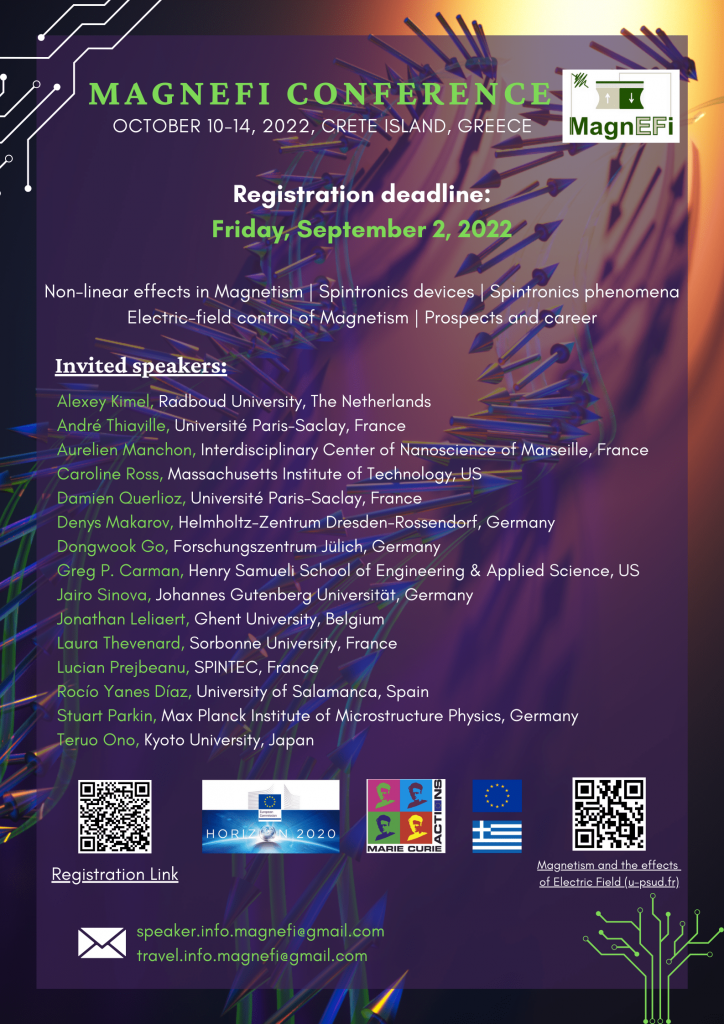 Download the conference poster here:
NEW! you can find the book of abstracts here!
Important dates
Application deadline (participants) extended to Monday, Septmeber 5! Registration closed.
Notification of acceptance (by email) before Friday, September 16 2022